How to move Rekordbox' MyTags or Traktor's Comment2 fields
Written by: Christiaan Maks
@ 9/29/2020
A good music organization system often uses all the fields a track has to offer. There have always been a few fields that are slightly harder to work with because they are specific to a certain DJ program.
A good example of this is Rekordbox' MyTags. No other DJ program has this so it's always been hard to convert this. If you wanted to change to Serato, where would the MyTags go? Until now, they would disappear.
Now, rekordcloud has a few new interesting features when it comes to these fields:
Uploading your MyTags from Rekordbox 6
Full support for the Traktor Comment 2 field
Full support for the VirtualDJ User1 and User2 fields
Rekordbox' MyTags
You don't need to lose your MyTags anymore!
When you're uploading your Rekordbox 6 library, you can tell rekordcloud to copy your MyTags into another track field.
If you tell it to use the Comment field, you'd get something like "House / Big Room House / EDM" in your Comment field.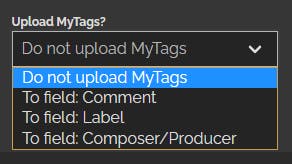 Traktor's Comment 2 and VirtualDJ
Traktor's Comment 2 field is a strange one too. Traktor already has a regular Comment field, so what to do with this second Comment field?
Rekordcloud has the perfect solution that gives you full control. These fields that used to be special are now treated as normal fields in rekordcloud. This means that you can use the Track Editor to move or change them as you see fit. The same goes for the VirtualDJ User1 and User2 fields.

The Track Editor is super powerful and has tons of options to change as many tracks at a time as you want. These special fields are now fully supported.

Rekordcloud
Are you managing a large library that's getting messy? Or maybe you want to generate cue points automatically or remove duplicates? Rekordcloud can do really cool things!
Check out the instant rekordcloud demo. No signup required!
More cool stuff is coming. Follow rekordcloud on Facebook to stay up to date.
Follow rekordcloud
Follow rekordcloud