Crate Hackers partnership
Written by: Christiaan Maks
@ 6/23/2020
I'm very happy to announce that rekordcloud is going to partner up with Crate Hackers! Together we are going to do some groundbreaking things that are completely new in the DJ world.
Crate Hackers is super new and already a big hit. They create curated playlists and are hooked up to some of the biggest record pools out there. The community is crazy enthusiastic and super helpful!
The beauty of this partnership is that rekordcloud and Crate Hackers are so different. Crate Hackers makes these awesome curated playlists by hand and rekordcloud is all about automating things. Combining these two we get the best of both worlds and create some crazy beautiful things for you!
Let's dive right in!
Curated Cue Points
I'll just start with the big one. The Crate Hackers guys are going to add cue points to their curated playlists. Rekordcloud is going to add those cue points to your library. That means you'll get cue points created by professional DJs without doing anything!
And it gets way way better.
If you've used rekordcloud before, you'll know you can generate cue points. You'll probably also know that they are not always right, simply because they're made by a machine. But what if they aren't made by a machine anymore, but by professional DJs? You'll still be able to create cue point templates in rekordcloud, but it will use the curated cue points which means total flexibility and 100% accuracy.
That means clicking once to download cue points and you don't even need to check if they're good. Because they are always perfect!
See this screenshot below? That can be your cue point template, modified in any way that is your preference and you'll get perfect cues. And it works on any of the big DJ softwares, not just Serato!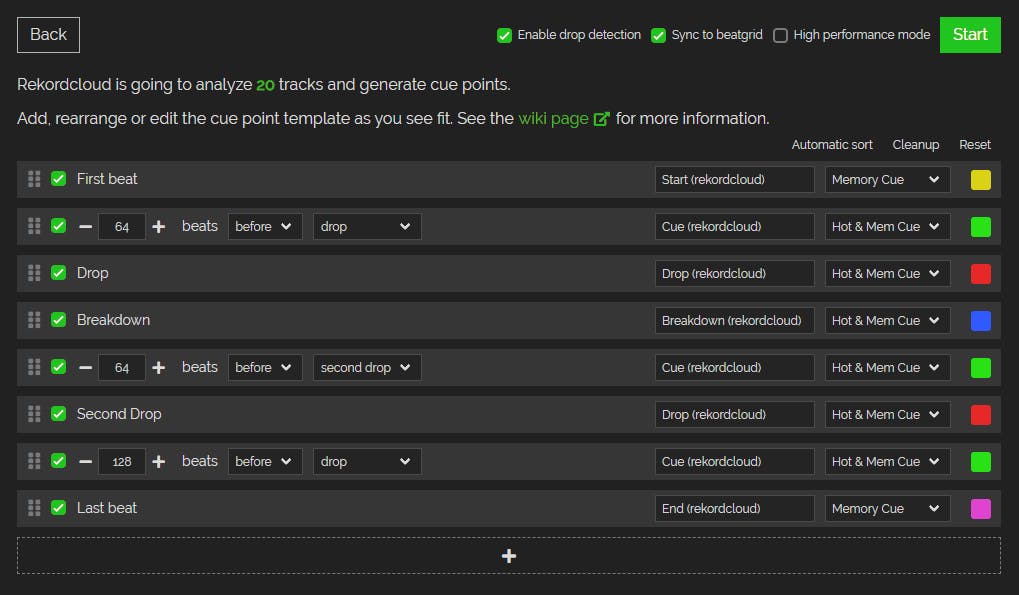 Community Playlists
Right now, the awesome guys Aaron and Joe are working really hard to create curated playlists. But what if the community could create playlists for them?
There's too many genres to count, but how awesome would it be if you could actually find curated playlists for any genre, including cue points?
That's the next step in this crazy collaboration! Anyone that uses rekordcloud and Crate Hackers will be able to create and upload new community playlists right from within rekordcloud. The cue points will be added too! No messing around with Excel files or anything like that, just a total seamless experience.
Personally, I can't wait to see what you guys come up with. Some drum & bass playlists that flow perfectly? Yes please!
When?!
Soon! Things are going crazy fast, ideas are brewing and now we need some time to build all this.
I don't dare say exact dates so I won't. Just know we're working hard and amazing things take time to create. Stay tuned!
Follow rekordcloud
Follow rekordcloud