Introducing Lexicon
Written by: Christiaan Maks
@ 4/19/2021
Hi everyone!
It has been a little quiet here, but for good reason. For the better part of the past year, I've been working crazy hard on one thing: Lexicon. If you like Rekordcloud, you will love Lexicon!
What is Lexicon?
Short version: Lexicon is Rekordcloud 2.0
Long version:
Rekordcloud can do many really cool and extremely useful things. The problem is that Rekordcloud was being held back by the fact that it is mostly a website. There is an odd and confusing separation between the Rekordcloud website and the Companion App. The reasons are entirely technical (websites can't access your files). This made sense at the start of Rekordcloud, but over time it became clear that the app is a crucial part of Rekordcloud and not just a companion.
That's how Lexicon was born: everything in an app. All Rekordcloud features are available in Lexicon and much more. New ideas have very little boundaries now and Lexicon is the app that gives DJs massive amounts of power over their music library.
Why the name change?
Rekordcloud implies that it is cloud based, i.e. a website. That was the original idea behind Rekordcloud but with Lexicon the focus will be on a local app. There will still be a connection to the cloud (the Rekordcloud server) for features that require it (e.g. charts) but Lexicon will be completely usable offline.
So what's new?
Lexicon is a complete rewrite with a completely new interface. So you could say everything is new. Here's a screenshot: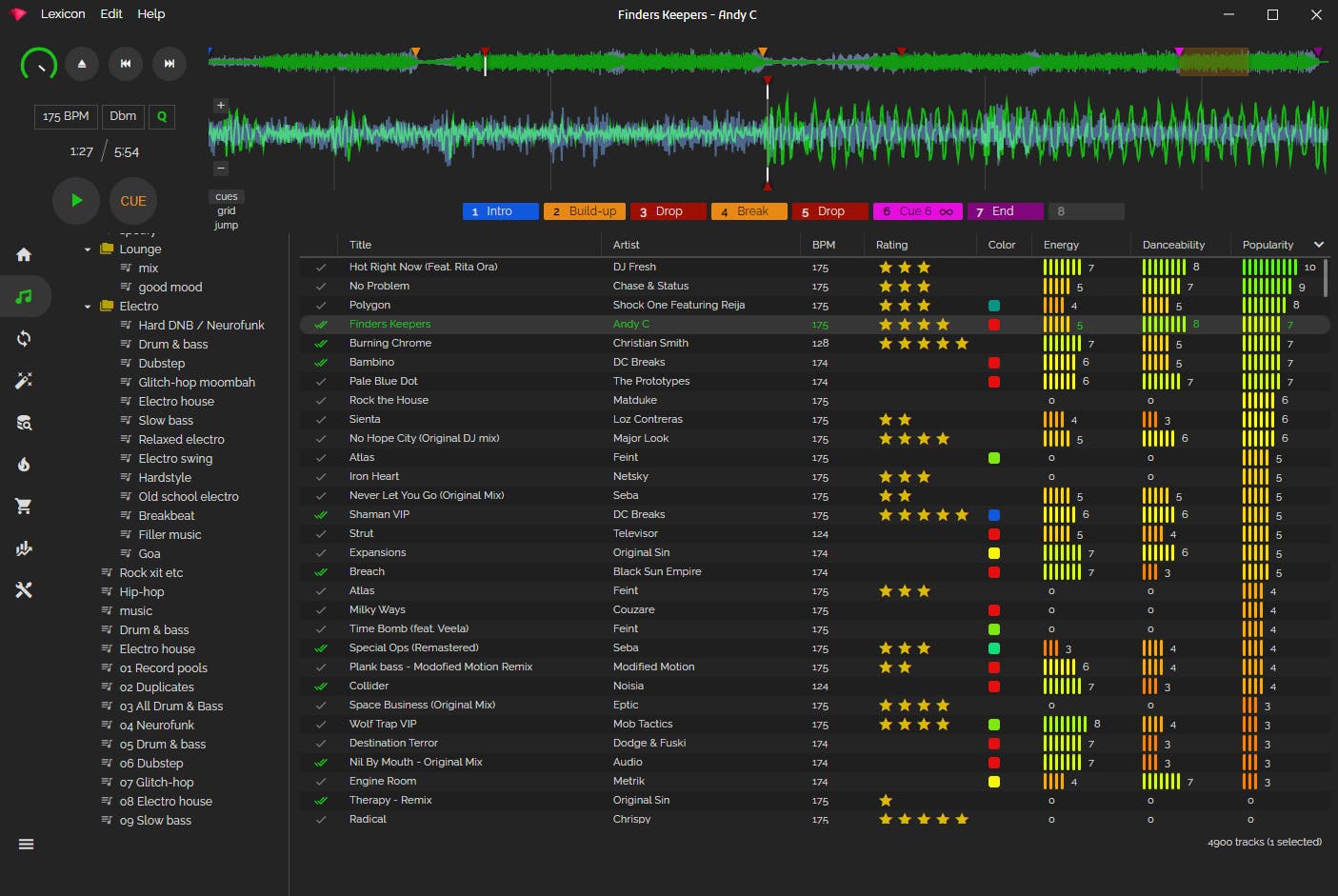 You'll notice the layout is much more familiar to anyone that has used a well known DJ app before. This was a big problem in Rekordcloud. In Lexicon, your tracks and playlists are front and center. If you want to do something, now you just right click tracks or playlists and go for it. You don't need to be searching for the right place to find the right feature anymore.
All general features (e.g. chart, statistics, smart fixes) are in the sidebar where you'd expect them.
There are a bunch of other very cool new things that I will talk about in detail in the next few blog posts.
Music Player & Preparation
Lexicon now has a music player built-in. You can listen to your tracks, queue them and modify them. You can add cues and loops. You can modify the beatgrid. You can beat jump.
The idea is that you will be able to do all your preparation work in Lexicon. When you are ready, just sync your library to your favourite DJ app (or more than one) and start mixing.
When is it ready?
The aim is Summer 2021, but it's done with it's done.
Lexicon is already in the first testing phase. All Rekordcloud users will be able to try it soon, just keep an eye on the Rekordcloud dashboard and you'll see it.
What will happen to Rekordcloud?
For now, nothing. Rekordcloud will continue to work and you can safely keep using it.
Ultimately, Lexicon will replace Rekordcloud and Rekordcloud will be turned off. But that won't be for a while. First Lexicon needs to be released and there will be a transition period as well.
Rekordcloud users will be upgraded to Lexicon users automatically and get access to Lexicon. In that sense, Lexicon really is Rekordcloud 2.0 and not something new you need to buy.
Tell me more
More info will follow soon. I'll keep writing blog posts and go in detail about a specific feature each time.
Feel free to ask questions about anything or if you want me to write a blog post about a certain feature, do let me know!
Follow rekordcloud
Follow rekordcloud