Buying your tracks quickly with minimum effort
Written by: Christiaan Maks
@ 11/12/2020
Everyone is streaming music now, even DJs. But you still need to buy your tracks to play them during a gig. Finding where to buy tracks can be a real time sink and super boring.
Here's the new rekordcloud feature that can save you about 95% of all the work: Store Links
What is Store Links?
Searching websites like Beatport, Bandcamp, Juno, Traxsource and Apple Music (iTunes) is just boring manual work. Rekordcloud will do the boring part for you now.
After entering a few tracks, it will present you with this: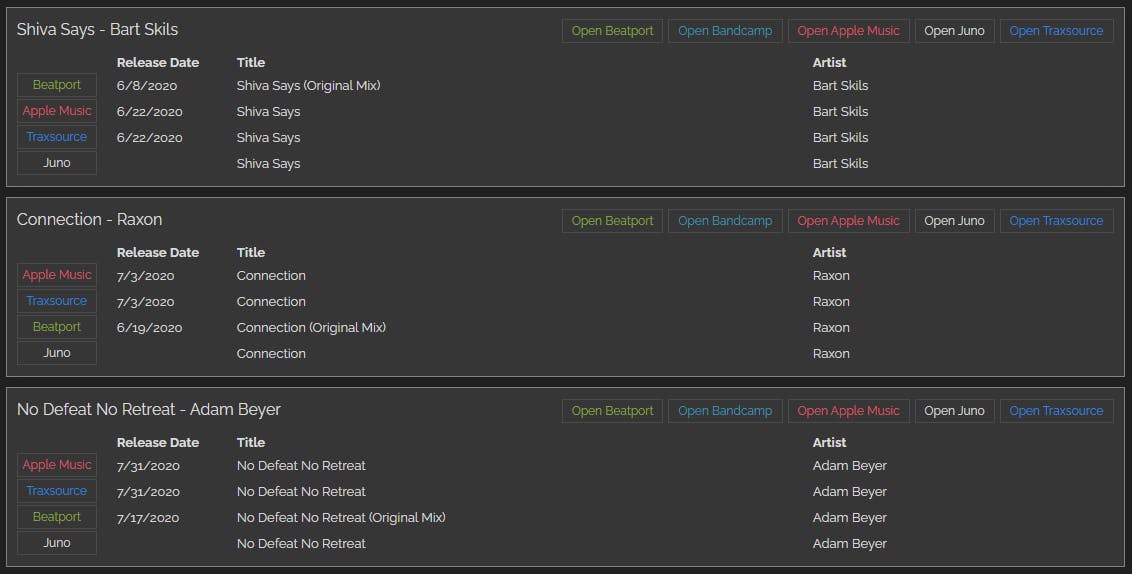 Now you can just go through the list and click any track you'd like to open the store page for. Just add them to your cart there and checkout when you're done.
Easy!
How does it work?
You simply enter the track names you want and rekordcloud will search for them.
You can enter tracks directly from Spotify or even a Spotify playlist. Tidal works too. You can even upload a text file with track names.
And there is support for Shazam Local Charts so you can find the charts for a certain city.
Even better
What's even better is that Store Links can be used from other places in rekordcloud.
For example, you can browse the Apple Music Charts in rekordcloud and simply load all the tracks you don't have yet into Store Links and rekordcloud starts searching.
The same thing works for Track Discovery (discover new music that isn't in your library yet). All the tracks that you select there can be loaded directly into Store Links and will be found very quickly.
Or maybe you'd like to replace all your low bitrate tracks? You can use the Track Editor to find all your lowest bitrate tracks and load them into Store Links.
Cleanup
Rekordcloud can do a million other things! Give your library a good cleanup and take back control!
Follow rekordcloud
Follow rekordcloud